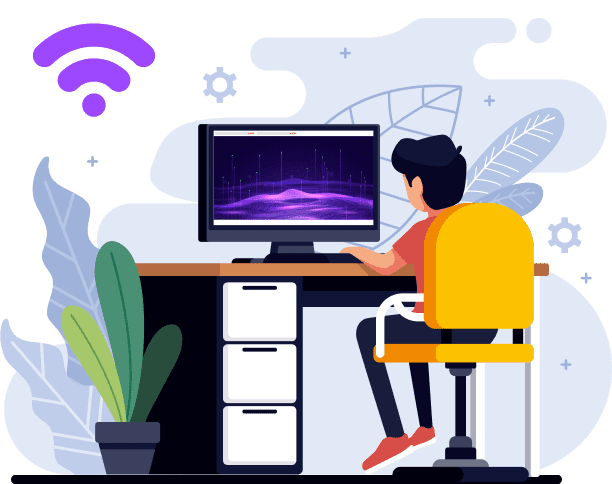 Speed Matters-
fiber is the future
With our 100% fiber-to-the-home network, you'll enjoy a faster, more reliable Internet experience to power all of the connected devices within your home. From working from home, streaming your favorite shows, gaming, or adding convenience with the latest smart home devices, fiber can power it all. Future-proof your home with the power of fiber.
Explore Internet
TV and entertainment
on your terms
From the best in live TV and On Demand with DIRECTVstream, a traditional cable experience with Omni Fiber TV, or choosing your own streaming services from our convenient suggestion tool, we have flexible options to fit your interests and budget.
Explore TV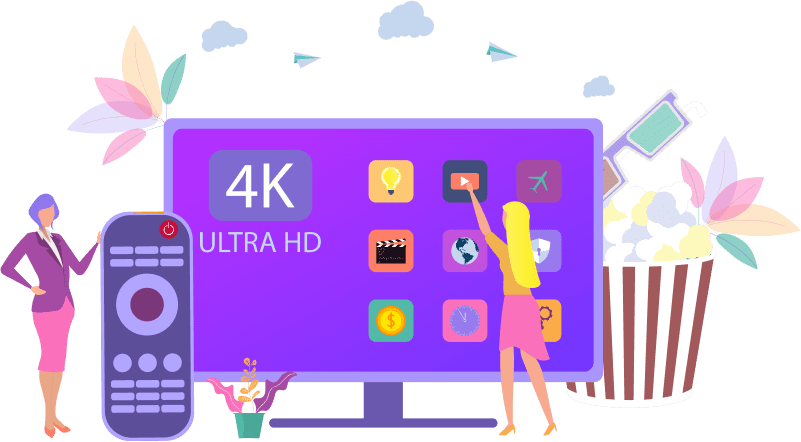 Stay connected with
Home Phone
Get peace of mind with reliable home phone service for only $15 per month. Enjoy unlimited domestic long distance and 15 convenient calling features. And, you can keep your existing phone number.
500 Mbps
Perfect for a connected home with multiple devices
$55
/mo
with ebill & autopay
1 Gbps
Great for families with multiple devices, gamers and people who work from home
$75
/mo
with ebill & autopay
2 Gbps
Perfect for extreme gamers, heavy video streamers or work from home pros
$95
/mo
with ebill & autopay
To see if Omni Fiber is available in your area, enter
your address below.
Want to know more?
Learn more about Omni Fiber
General
Omni Fiber offers 100% fiber-to-the-home Internet with symmetrical speeds,
TV
and
h
ome Phone services
.
Yes, Internet, TV, and voice service will be available for business customers.
Fiber-optic cabling is made from tiny strands of glass that can
transmit
light signals over long distances, transporting data much faster than traditional cable internet. Light signals are also more reliable as they do not rely heavily on electrical power to be transmitted like cable internet and are not sensitive to electrical interference.
In a nutshell
,
it's
faster and more reliable! 
Omni Fiber delivers what people expect from their Internet Service Provider: blazingly fast Internet speeds, unbeatable reliability, 100% in-home coverage, and best-in-class local customer service. We keep things simple, and that means no contracts, no hidden fees, no data caps, no installation fees, and a 30-day money-back guarantee.
If you are located within one of our current or coming soon service areas you can pre-order by clicking on "Check Availability" right here on the website and
providing
your address,
selecting your Internet plan
,
and
providing
your
name, email, and phone. Once service is available in your
area
and ready for installation, we will contact you.
Construction
The duration of construction depends on the layout and design of your neighborhood
. 
Our goal is to complete the process as quickly as possible
. 
In each
neighborhood, construction
may
take 4 to
8 weeks
.
B
uilding
our network in
all
neighborhoods
in
a town may take
3 to 6 months depending on the size of the town.
First, we will notify residents that construction is beginning soon in your area with door hangers and/or direct mail.  In areas where utility poles exist, the fiber-optic cables will be attached to the electric or telephone poles (aerial construction), otherwise, the fiber-optic cables will be buried (underground construction).
Aerial construction:

Our crews will utilize bucket trucks to hang fiber-optic cable on utility poles which may temporarily impede the flow of traffic. Please pass our teams safely when you encounter them.

 

Underground construction:

Before we bury the fiber-optic cables, we ask the utility companies to come out and mark with flags and paint where their lines are located to avoid damaging them. We may also dig in some places to verify the location of other utilities. Next, underground conduit and access vaults are installed along a designated utility easement. Finally, our construction teams will install the fiber-optic cables and connect them together to create one seamless network.

 
This process takes a few weeks and once our crews have finished, any impact to yards and public areas will be restored.
Yes,
Omni Fiber
is
permitted
to access designated utility easements, usually
located
within the back alley, a strip of land along the street, sidewalk,
or
front
yard
,
a rear lot line, or between two lots. If the easement is within a fenced
yard
, our crew
s
will need your help accessing them.
Fiber installation occurs on designated utility easements, which can be used to construct and maintain utility lines. This means that we may need access to the easement through your property. The choice to join Omni Fiber's network and have fiber run to your home is ultimately yours, but we think you'll want to!
Our crews will do everything they can to minimize impact to your property. Once construction is complete and
as
weather permits,
we will
restore lawns in areas where digging occurred. Following construction, if
it's
not to your satisfaction, please
contact us
using the form at
www.omnifiber.com/construction 
Our construction crews approach your yard with the assumption that there may be private utilities
located
underground and will do their best to avoid them. If you would like to take an extra precautionary step, please mark areas of concern with pink or white flags or landscape-safe paint to alert crews of the need for caution
. You can also report any underground items by completing the "Construction Feedback Form" available at omnifiber.com/construction.
To minimize disruption on your property, we strongly encourage you to leave markers and paint in place until construction of the network is complete. Utility flags are placed to avoid other utility disturbances or accidents in the area while work is being completed. Different colored flags signal the different utilities: blue for water, yellow for oil and gas, orange for telecommunications, etc. Any paint markings aren't permanent and will fade over time.
Unfortunately, we are unable to move or to care for plants or obstructions that have been placed in the easements. Before construction crews come into your neighborhood to build our network, we will leave
a
door hanger so that you have time to move your plants or obstructions into a safe spot.
When work is happening near your house,
it's
getting
close! Service will be available for installation once a group of homes are collectively connected to the systems and
we've
completed testing.
Omni
Fiber will
attempt
to contact you as soon as possible so you can schedule installation at your address.
  We also offer the ability to place a pre-order on our website to ensure you're installed as soon as possible once services become available. 
Service Areas
In the next few months, we are focusing on small towns and cities in Ohio, Pennsylvania, and Michigan. Soon we will start evaluating more markets in other states in the Midwest. If you are interested in bringing fiber to your community, send us an email to
[email protected]
Most homes in the towns listed will
be
serviceable
. 
If you live in an apartment, we will need
special access
from the property owner called Right of Entry (ROE) to bring our facilities to each apartment. 
Yes. We are currently evaluating more towns in Ohio,
Pennsylvania,
and Michigan.
Once service is available in your
area
we will contact you
. 
The best way to secure a quick
install
is to pre-order
service
which saves your place in line with no upfront payment or commitment.
Internet
No, the price of DIRECTV Stream is the same whether you sign up through Omni Fiber or directly through DIRECTV. However, customers who sign up through us receive free professional installation when DIRECTV is ordered at the same time as Internet Service.
The devices and activities that
utilize
internet
will vary for each household. Fa
ctors to
take into account
are how many devices you have connected to the internet, how you
utilize
those devices, and how often. Speaking with one of our knowledgeable Omni Fiber sales representatives may be the easiest way to
identify
the speed you would need.
The discount for
ebill
is $5/month and the discount for autopay is $5/month
.  You
 can select
none
, either one, or both.
We recommend taking advantage of the convenience and savings of both. 
Yes.
However, s
ince we
don't
charge for equipment, bringing your own router
doesn't
save you money and if you are having Wi-Fi issues, we
won't
be able to troubleshoot the problem.
We recommend taking advantage of our equipment provided at no additional charge for the best experience.
Wi-Fi 6 (802.11ax) is the latest generation of Wi-Fi technology that replaces Wi-Fi 5 (802.11ac). It has a
maximum
rate that is almost 40% faster, better coverage, is more energy efficient, and handles Wi-Fi congestion better.
Wi-Fi 6E takes Wi-Fi 6 to the next level by adding the new 6GHz band. This means even less congestion for more speed for compatible devices.
TV
Local channels are
expensive
and customers can get them for free with an antenna.  If we included local channels, we would have to charge $30 to $40 more per month. Local channels as well as regional sports are
also
available through DIRECTV Stream which we offer through Omni Fiber.
Our goal is to help you find the best TV option to accompany your Omni Fiber Internet. Omni Fiber TV is designed to be a low-cost option for our customers that want popular entertainment available from the national networks. In order to keep that cost low, we had to exclude networks which carry expensive sports programming from this package as programmers limit how we can package networks. However, these networks are available from streaming providers such as DIRECTV Stream, YouTube TV, and others. Whatever your viewing preferences, we can help you find the best option to
compliment
your Omni Fiber Internet service.
Omni Fiber evaluated all of the streaming services available and found that
DIRECTV Stream
carries more channels than any other service,
offers more tiers than any other streaming provider, and is the only streaming provider that offers optional equipment with a remote control with numbers which makes the streaming experience quite
similar to
traditional cable services.
Finally, Omni Fiber is working to offer other streaming services as well.
No, the price of DIRECTV Stream is the same whether you sign up through Omni Fiber or directly through DIRECTV. However, customers who sign up through us receive free professional installation when DIRECTV is ordered at the same time as Internet Service.
Phone
In most cases, yes, you can keep your
current
phone number. We'll do everything we can to make that happen. There may be rare
circumstances
when we are not able to transfer your number. If that is the case, we'll discuss your options with you.
Affordable Connectivity Program
All Internet plans are eligible for the $30 discount for qualified households
The ACP benefit is limited to one monthly discount per household at a time. You may choose to transfer your ACP benefit from your wireless service to your Omni Fiber internet service.
Yes, if you or a member of your household qualify for both the ACP and Lifeline Program, you nay apply both benefits to your Internet service. Eligibility for the Lifeline Program is done via USAC's National Verifier. Click 
here
 to get verified.
Installation
Because most homes have not had fiber-optic technology installed before, the process to wire your home for service can take up to four hours. The installer will run a fiber-optic line directly to your home. To bring fiber-optic internet into your house, they will drill a small hole into your home. Finally, they will install an Optical Network Terminal (ONT) and a Premium Wi-Fi router.
Once you've pre-ordered
and service becomes available in your neighborhood, a member from our Customer Experience Team will contact you to schedule an installation. You are also
welcome
to contact us at 844-844-OMNI (6664).
Yes, please make sure someone 18 years or older is present for the entire duration of the installation.  For the safety of our employees, we also ask that you please keep pets in a safe place during the installation (
with the exception of
service animals).
To bring fiber-optic internet to your home, Omni Fiber will install an Optical Network Terminal (ONT) at no additional cost.  While cable and DSL internet use modems, fiber-optic internet uses an ONT
.  The
ONT translates the fiber-optic light signal into an electrical signal readable by the router, ethernet cable, and connected devices. We also include a Premium Wi-Fi router.  While you are welcome to use your own router, we highly recommend the use of our equipment.
Billing
The payment is due 15 days after the bill is generated. You will not begin receiving a monthly bill until services are installed.
Yes, you can. Any amount you pay will be credited to your bill. The payment will be applied first to your Internet service, then Phone service, and then TV service. However, the fact you have made a partial payment will not always prevent the disconnection of your service.
Yes, there is a $35 fee for returned checks.
If your
Omni Fiber
service(s) is not under a contract term or is under a contract term which has expired, you may cancel your service(s) at any time without penalty or cancellation fee. If your
Omni Fiber
service(s) are under a contract term which has not yet expired, you may cancel your service(s) at any time, however you may be subject to early termination fees totaling up to 100% of your remaining monthly recurring service fees for the remainder of your current term.
Yes.  Omni Fiber offers vacation service
for only $10 per month per service (Internet, T
V, phone).
Please call 844-844-OMNI (6664) for service cancelation and instructions on how to return the equipment. 
Yes
you can select your bill date. However, be aware that selecting a date after the appropriate billing cycle can cause your
next
bill to be higher than
the previous one
.